Mumbai blasts raise terrorism concerns, but not calls for political change
Indian voters often don't see terrorism as a political issue, so despite dissatisfaction with the government's response to Wednesday's attack in Mumbai, there may not be political fallout.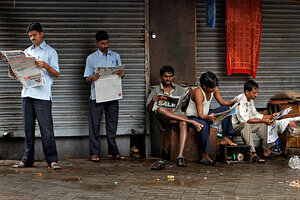 Aijaz Rahi/AP
Facing a dearth of evidence from Wednesday's terrorist attack on Mumbai, the Indian government has avoided speculating on culprits and announced planned talks with Pakistan would continue as scheduled.
American officials have worried in the past about India's ability to avoid escalating tensions with Pakistan in the face of another major attack after the Nov. 26, 2008 raid on Mumbai. So far, India's government has played it very cool.
Part of the early muted response has to do with the uncertainty over who perpetrated the attack and its smaller scale as compared to the 2008 attack. But there's another major factor that could give policymakers here leeway as more facts emerge: National security does not play a large role in Indian elections.
"Terrorism has never been an electoral issue," says Yashwant Deshmukh, a pollster with Team CVoter in Noida. "If you talk about the biggest issue in front of the country, then terrorism will shoot up as an issue that concerns them. But if you talk about what is the biggest issue when you go to vote, then terrorism as an electoral issue isn't there."
He argues that many voters do not see terrorism as under the control of politicians in the same way as inflation or corruption – two issues that are currently upsetting Indians.
The main opposition party is trying to make an issue out of the government's response to terrorism, however.
---