US General Petraeus hands over command in Afghanistan amid wave of attacks
US General David Petraeus, the new director of the CIA, officially handed over command of US- and NATO-led troops in Afghanistan at a time of increasing instability.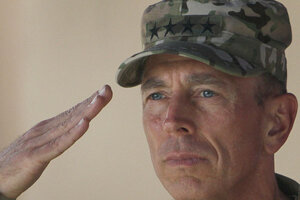 Musadeq Sadeq/AP
US Army Gen. David Petraeus, the top commander in Afghanistan, officially relinquished command of international forces here to US Marine Gen. John Allen in a ceremony in Kabul on Monday. Unlike with his departure from Iraq, Petraeus leaves his successor a war that is far from over.
Also unlike with the handover in Iraq, Petraeus's legacy here is unsettled even a day after the gradual process of transferring security to Afghan forces began. The policies that some herald as major achievements in stabilizing the country are the same policies that many observers say risk creating an element of insecurity: chief among them, the Afghan local police program, increased night raids, and airstrikes that reportedly led to the killing or capturing of hundreds of insurgents.
"We have reached an important juncture in our combined campaign. You and our Afghan partners have wrested the momentum from the enemies of the new Afghanistan in much of the country," said Petraeus at the ceremony, citing gains in the south and a decrease in the number of insurgent attacks compared with last year. "Even as we note the hard-fought progress of the last year and commence the transition process, we should be cleareyed about the challenges that lie ahead."
---