Why India could feel the global financial aftershocks this time
India's huge domestic demand helped it weather the financial crisis of 2008. But since then, Indian companies have invested internationally, increasing India's vulnerability to economic downturns.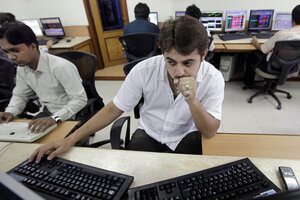 Rajanish Kakade/AP
When US President Barack Obama arrived in Mumbai last November, the country's benchmark stock index had just hit a peak of 21,108. Today, the Sensex slipped as low as 16,759, making it official: The bears are roaring in India.
A traditional rule of thumb for a bear market is a 20 percent drop over more than two months. The final push today came as part of a wave of market losses in Asia in reaction to the downgrade of the US credit rating late Friday.
India fared better than most countries in the global financial crisis of 2008 partly due to its insular focus on its own domestic market. But India's strong position fueled more Indian acquisitions abroad and greater foreign investment here. Now India stands more exposed to any second coming of global financial jitters.
"In IT, pharmaceuticals, manufacturing you clearly have industries that have all moved into directions of growing international exposure," says Nick Paulson-Ellis, India country head for Espirito Santo. "We are not talking about a Northeast Asian country that is export-oriented, but I think it's no longer the case that India is not exposed to international conditions abroad," he adds.
India has a huge domestic population with rising living standards. And the ability to supply that domestic demand still gives India a resiliency unlike more export-driven economies.
---