Will Afghanistan return to an era of warlord rule after NATO leaves?
Though NATO-led efforts have focused on democracy in Afghanistan, US forces still rely on Afghan strongmen to wield local influence. But power built on personalities are vulnerable to collapse.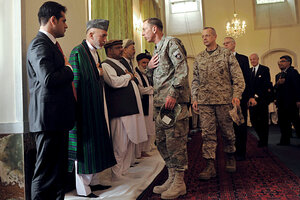 Massoud Hossaini/AFP/Getty Images/Newscom
Kandahar City, Afghanistan
In his sprawling office in Kandahar's gubernatorial palace, Tooryali Wesa spends much of his day behind an imposing hand-carved wooden desk. Stately chairs and couches line the wood-paneled walls, topped with the type of high-vaulted ceiling found in a cathedral or classically designed mosque. The room is a virtual shrine to governance and an apparent testament to the power of the political office.
But in Afghanistan, things are rarely what they seem.
For years, Kandaharis have made it no secret that, while they respect Mr. Wesa, his position is largely symbolic. To get things done, they turn to the region's power brokers and warlords.
"The biggest challenge has been power brokers," says Wesa, reflecting on his time as governor. "They had only guns before, but recently in addition to guns they have money. They run most of the businesses, they are awarded contracts from [various international sources], and they are feeding the insurgency."
The possibility that power brokers and warlords in Afghanistan might be what keeps the country from unraveling has had analysts concerned, but the recent assassination of Ahmad Wali Karzai, one of the most powerful strongmen in Afghanistan, and the ensuing struggle in Kandahar for power, has brought the issue into sharp focus as the US begins to draw down forces.
The struggle to replace Ahmad Wali, President Hamid Karzai's half-brother, highlights a key question at the heart of Afghanistan's future: After 10 years of the US-led war, who can realistically control the country, warlords and strongmen or the government?
---