On remote Tibetan plateau, a health-care program that could be a model for China
The Surmang Foundation is training community health workers on the remote Tibetan plateau, where small advances can mean the difference between life and death.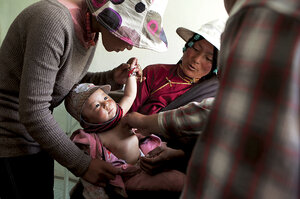 Melanie Stetson Freeman/Staff
When Puder, a Tibetan woman from a yak-herding family in this remote village on top of the world, had her two children, she spurned the local habit of giving birth on a bed of dried yak dung. Instead, she chose to lie on some old clothes to soak up the blood.
"I didn't like the way I had seen other women's babies come out all covered in dung," says Ms. Puder, who like many Tibetans uses one name. "It seemed dirty."
Her instinct for basic hygiene – rare among the nomadic Tibetans who graze their yak herds on these grassy slopes 12,000 feet above sea level – made Puder a natural candidate to join an innovative plan by a nearby American-funded clinic to train birthing assistants. And it is saving lives in one of China's most isolated regions.
The Surmang Foundation's clinic, set in a Buddhist monastery, is also pioneering a system of rural health care for the ultrapoor that some experts say could be a model for the rest of the country.
"What makes the clinic unusual is that it actually is what it should be" offering possible lessons for the government as it tries to reform its patchy and expensive health care system, says Ray Yip, a public health expert with the Gates Foundation who is advising Surmang.
Lee Weingrad, the American who set up the foundation, first came to this region in 1987 because his Buddhism teacher had once been an Abbott here.
---