Afghan war: What some local officials are willing to do for peace
Some local Afghan officials are hoping to end the decade-long Afghan war by negotiating with the Taliban – province by province.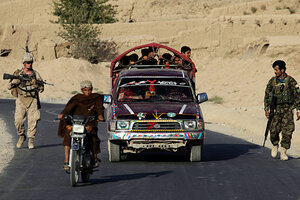 Brennan Linsley/AP
After spending most of his life as a fighter – first as a mujadhideen during the Soviet invasion and most recently as a general in the Afghan Army during the current war – Atiqullah Ludin is among a growing group of local leaders who say they no longer believe fighting will bring peace.
So Mr. Ludin, who is now the governor of Logar Province, helped launch an effort to end the violence in his increasingly troubled province by starting independent, direct negotiations with insurgents in his area.
"I can't just watch my people get hurt by the insecurity, so I started these talks," says Ludin, whose predecessor, Abdullah Wardak was assassinated in 2008 by the Taliban. "I fought with the Taliban a lot [before I was governor], so now I've changed my thinking and started working for peace. I don't want to fight anymore."
Throughout Afghanistan a number of local government officials like Ludin have begun looking for ways to convince insurgents to put down their guns and support the government. Although they're not authorized to make any official compromises or deals with the Taliban, officials in Kabul hope this local effort to end violence in the provinces will pave the way for larger talks.
---