Indians rally against a boom in corruption
As in China and other fast-rising economies, boom times are known to produce corruption cases. Now, social activists in India are pushing back with mass protests.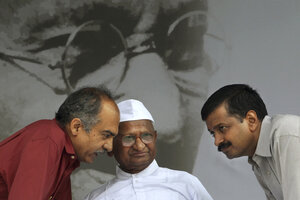 Kevin Frayer/AP
Indians who turned out by the tens of thousands recently to protest corruption are following a pattern seen in other fast-rising economies: Growth spurts are followed by spikes in corruption – until reformers push back.
And resistance has arrived here with surprising force.
Standing with crowds in the muddy Ramlilah fields, the center of anticorruption rallies, government servant Devinder Singh sees stickier fingers around him these days. He blames a keeping-up-with-the-Joneses mentality. "We need many, many things now – mobile phones, good vehicles, a good house," says Mr. Singh. "Corruption actually grows with the demands of the [bribe takers]."
Nearly every protester points to the string of scandals made possible by new wealth, including a rigged auction of a cellphone spectrum that defrauded the country of $40 billion.
"There's not an economy in the world where you have had rapid economic growth and transformation of an economy without a rise – at least for a while – in corruption and inequality," says Vivek Dehejia, an economics professor at Carleton University in Ottawa. "You can say the growth caused the corruption, and in some sense the corruption leads to its own correction. And if you don't do that, you can get stuck and wind up in a middle-income trap," he adds.
Britain's imperial heyday saw the purchasing of Parliament seats in so-called rotten boroughs. Robber barons rose up alongside the US economy, touching off the Progressive Era. Today, other so-called BRIC countries – Brazil, Russia, India, and China – have seen a similar story.
---