From Guantánamo to Pakistan: One man shares his story
Human rights activists say that 10 years after 9/11, cases of extraordinary rendition such as Islamic scholar Saad Iqbal Madni's remain common because Guantánamo Bay has not been shut down.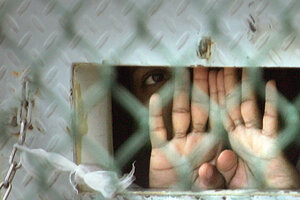 Brennan Linsley/AP/File
Three years after his release from Guantánamo Bay, Islamic scholar Saad Iqbal Madni says he still feels like a prisoner – but now, it's by his own country.
The 33-year old, looks far older in person than the ID card photo he brought with him from his six and a half years in detention. He is closely monitored by Pakistani authorities, labeled a high risk to Pakistan, and unable to find steady work because of the stigma attached to his detention. Despite never formally being charged for any crime, "People still call me a terrorist, they are afraid to have contact with me," he says.
Using a mix of Urdu and English with a slight-American accent – a product of his contact with the guards at Guantánamo Bay – Mr. Madni speaks passionately of the alleged torture he faced during his ordeal, which began in September 2002 with him being rendered from Jakarta to Egypt, Bagram prison in Afghanistan, and finally to the infamous Delta Block where he went on hunger strike for a year and half before his release.
Human rights activists say that 10 years after the 9/11 attacks experiences such as Madni's, cases they describe as "unlawful" detention, remain common partly because Guantánamo Bay has not been shut down.
"Our biggest problem with the whole phenomenon [of extraordinary rendition] is that it removes people from the protection from the law," says Sarah Bilal, head of the Justice Project Pakistan, a legal aid cell which works in partnership with British charity, Reprieve, which represents abused prisoners around the world.
---