India's deadly terror attacks: What happens when the spotlight fades?
Families who've lost key members to the string of terror attacks that have hit India in recent years struggle to make ends meet, despite government assistance.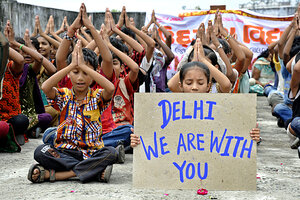 AP
The long string of terrorist attacks in India over the past decade have filled newspaper headlines with concerns over the country's failure to track down and stop the menace. But often lost in the security debate is the struggle of the victims' families long beyond the funerals and fading headlines.
A bomb blast at a crowded market in New Delhi cut in half the Dass family in 2005. With their son, daughter-in-law, and grandson killed, Baghwan and Saleena Dass now raise their young grandchild and sole descendant, Manisha.
Like many Indian elderly, they had been living with their son and relying on his salary until he was suddenly killed. In the aftermath, politicians promised the family they would not have to worry about the expenses of raising Manisha, but the only government money came in a lump sum available far in the future.
"I would like to move on ahead in life and concentrate on Manisha's future. That is my constant worry," says Mr. Dass. "I have become very insecure. I cannot predict the kind of expenses that will have to be borne."
After every major terror attack the Indian government promises to help ease the sudden financial burden faced by victims' families. But families such as the Dass's say the government does little beyond an initial lump sum that doesn't fit their ongoing needs. Researchers working on the long-term plight of terror victims here are urging the government take a longer-term, more comprehensive approach to their care.
---