Who's really behind the Kabul attacks?
The Taliban claim responsibility for recent Kabul attacks, but the US pins blame specifically on the Pakistan-based Haqqani network in what some see as a bid to salvage Taliban peace talks.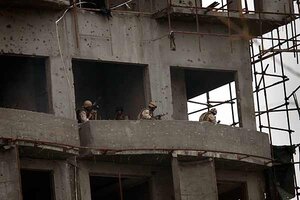 Musadeq Sadeq/AP
US Ambassador to Afghanistan Ryan Crocker blamed the Taliban faction known as the Haqqani Network for a 20-hour terror attack in the heart of Kabul, despite broader Taliban claims of responsibility.
Some analysts view the US coalition's focus on blaming the Haqqani faction for many recent attacks around Kabul to be a tactic to salvage nascent peace negotiations with the Taliban's more mainstream leaders.
"These are really joint attacks by all these groups. What [the US-led coalition] ISAF has suddenly done is they've pivoted due to negotiations, or talks of negotiations, and they are sort of trying to leave the Haqqani Network as the outlier," says Bill Roggio, editor of the online Long War Journal.
Top US and NATO officials have been laying blame on the Haqqanis for most of the major terror attacks in and around Kabul this year. These include the June attack on the InterContinental Hotel and a truck bombing over the weekend in Wardak that injured nearly 80 American soldiers.
Taliban spokesman Zabihullah Mujahid has claimed responsibility for all of these attacks in the name of the insurgency as a whole. Mullah Omar leads the overall Taliban movement with a leadership cadre known as the Quetta Shura. Factions like the Haqqani Network and Hizb-e-Islami have sworn allegiance to Mr. Omar and fall under the Taliban umbrella.
---