Trekking in Kashmir: Where nuclear powers once clashed
Kashmir – torn by nuclear rivals India and Pakistan – hopes new trekking business will divert timber smugglers and help reivive the economy.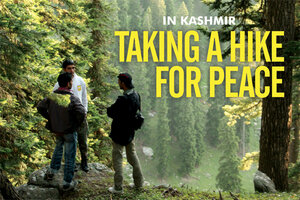 Ben Arnoldy
Novroz Baba, Indian-controlled Kashmir
On that first day, we climbed up and up into Kashmir's forests and mountains, home to nomadic shepherds, timber thieves, and Indian soldiers defending the Line of Control from Pakistani militants.
I was the first Westerner some had ever seen on the Himalayan footpaths crisscrossing the world's most militarized zone. Rimmed by peaks flowing into Pakistan and China, the Kashmir Valley looks pristine. But for decades it was a paradise lost to fighting between nuclear rivals India and Pakistan and a Kashmiri Muslim struggle for independence from New Delhi.
The armed conflicts have mostly ended in Kashmir. But absent a political resolution, spring never followed winter: no thaw in relations between Kashmiris and Indians and few shoots of economic revival.
The expedition I took represents one group's efforts to bring back foreign trekkers and economic life to rural Kashmir. My companions were 10 Kashmiri men, among them former tree smugglers training to become guides on the very footpaths they once trod secretly by moonlight.
---