Reconciliation between Muslims and Hindus in Indian-controlled Kashmir
Hindus who fled conflict in the 1990s consider a move home. Still, distrust runs deep as key questions of Kashmir's past – and future – remain disputed.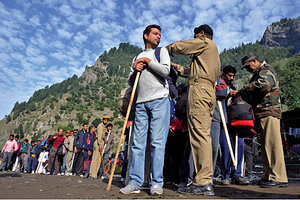 AFP/Newscom/File
Srinagar, Indian-controlled Kashmir
His elderly mother by his side, O.P. Kichloo walked up to their former house for the first time since they fled Kashmir in 1990.
The house – well-preserved – "struck my heart because it was built by my father," says Mr. Kichloo. "Tears rolled down from my eyes."
A Muslim woman emerged. She learned who they were, and soon the three Kashmiris were chatting on the lawn over cups of tea. Fifteen minutes later, they snapped photos and said their goodbyes, and the Kichloos got on with the remainder of their vacation.
As the era of armed uprising against India fades here, tourists are flocking to Kashmir and emboldening some Hindu natives who fled the fighting to also visit and consider moving back to the mostly-Muslim valley, where many feel they were once targeted for being a minority.
The visits offer glimmers of rapprochement between Hindu and Muslim Kashmiris.
While the trips are rekindling old friendships and recalling shared customs, distrust still runs deep as key questions of Kashmir's past – and future – remain disputed.
"Things are much better and people are very receptive this time, and people want us eagerly back in this place," Kichloo said in Kashmir in the presence of a Muslim.
But reached later by phone at his current home outside the region, his assessment runs darker: "I think in their heart of hearts, [Kashmiri Muslims] don't want us to settle back there.... Most who are coming are getting the same feeling when they go there."
Two sides of the story
The contradiction does not surprise Ankur Datta, an anthropologist studying the Hindu Kashmiri community known as pandits. "There's this kind of double-speak constantly, and it's really symptomatic of a certain kind of fear."
It's too early to say whether these trips will bring much reconciliation, says Dr. Datta. But any changes of heart are more likely with multiple trips.
---