As Afghan war hits 10-year mark, falling land prices signal fear over future
The 10-year war in Afghanistan brought an influx of foreign cash helped boost real estate values. But since Obama set in motion a US withdrawal this summer, security concerns are driving land prices down.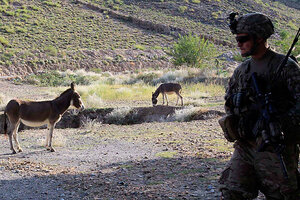 Erik De Castro/Reuters
On the 10-year anniversary of the war in Afghanistan, there may be no clearer sign that Afghans think the security situation is deteriorating than the country's falling real estate market.
With more than three-quarters of the population reliant on agriculture to make their living, land is a measure of wealth and one of the most clear-cut investment options. As such, property prices have historically risen and fallen with the fortunes of the nation. But after several years of a soaring property market, real estate prices here began to plummet in just the last several months.
Property dealers and investors say the downturn started almost overnight after President Barack Obama announced the beginning of the drawdown of American forces in June. Soon after, NATO forces began transitioning security responsibility for parts of the country to Afghan forces. Meanwhile, insurgents have assassinated a string of high-profile Afghan leaders.
"Since the day they said the foreigners are withdrawing and they started the transition everything just stopped," says Mohammad Agha, a property dealer in Kabul. "When the foreigners leave, we are not united. There will not be any compromises among Afghans. Everyone will try to have their own group and they will start fighting each other and there will be another civil war."
Throughout Afghanistan, there are a growing number of people who are unwilling or extremely hesitant to invest inside Afghanistan amid fears of growing instability and questions about how the economy will function after foreign forces leave.
---