Drone attack in Pakistan kills key Taliban leaders, say officials
A drone attack in northwest Pakistan has killed two top commanders of one of Pakistan's most influential Taliban groups, officials say.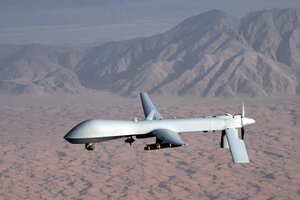 Lt Col Leslie Pratt/US Air Force/Reuters
A drone strike in northwest Pakistan Thursday killed at least six militant commanders of one of the Taliban's top leaders, Maulvi Nazir, whose faction is blamed for carrying out attacks on NATO forces in neighboring Afghanistan.
The strike, which reportedly killed Maulvi Nazir's younger brother Hazrat Omar, follows a visit by US Secretary of State Hillary Clinton to Pakistan last week in which she said that the US and Pakistan were working to put plans in operation against militant havens in Pakistan in the coming "days and weeks."
According to analyst Amir Rana, Director of the Pakistan Institute for Peace Studies (PIPS) in Islamabad, the drone strike signals a manifestation of the military understanding between the two countries.
Maulvi Nazir's network "had a clear collaboration" with the powerful Haqqani network, which the US claims operates out of havens in Pakistan's North Waziristan region and which it blames for a number of a high-profile attacks on US forces.
---