Deadly Taliban Kabul attack highlights US reliance on private contractors
Eight private contractors were killed in a Taliban attack in Kabul Saturday, serving as a sharp reminder of the US military's heavy – and controversial – reliance on contractors.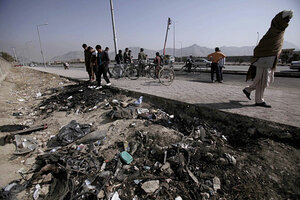 Muhammed Muheisen/AP
A day after a Taliban suicide bomb killed 12 Americans in a NATO convoy in Kabul, the military has yet to release details about the victims, but it appears that eight of them were civilian contractors.
Had all the Americans killed been soldiers, the attack would have resulted in the fourth largest single day loss for American forces in more than a decade of war here.
The death of eight contractors alongside NATO soldiers stands as a sharp reminder of the heavy reliance the US military and NATO forces have placed on private contractors to wage this war.
Throughout the American-led wars in Afghanistan and Iraq, civilians have played a vital role doing everything from running cafeterias and laundry services to training local militaries and operating drones.
With the US reliant on an all-volunteer military, it's unlikely that the US could have sustained more than a decade of foreign wars without these contractors. However, as contractors have become increasingly involved with combat operations, their role in America's wars has become ever more controversial.
"Information about this aspect of the war only comes out when something happens or goes wrong, but all in all it's a very secretive and not transparent part of the war," says Thomas Ruttig, co-director of the Afghanistan Analysts Network in Kabul. The recent bombing "should be used as an opportunity to discuss their role, and also better define their role so it becomes more transparent what they're doing over here."
---
Follow Stories Like This
Get the Monitor stories you care about delivered to your inbox.