Kyrgyzstan elections: Unity top priority for Atambayev
Newly elected Kyrgyzstan President Almazbek Atambayev has said his biggest challenge will be to unify the country, which has seen two revolutions and a string of questionable elections during the past decade.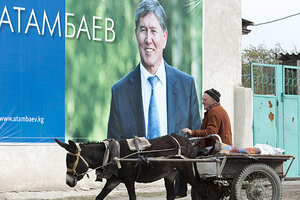 Vladimir Voronin/AP
Former Prime Minister Almazbek Atambayev declared victory Monday in Kyrgyzstan's presidential polls. The small, strategically-located central Asian nation's election is its latest attempt to restore political stability following two revolutions and a string of dubious elections over the past six years.
Mr. Atambayev, who was supported by Moscow, won almost 63 percent of the votes in a field of 16 candidates, electoral officials announced Monday. International observers described the election as mostly fair, though marred by "procedural flaws," including irregularities with voter lists and ballot-counting.
However, two leading contenders from the ethnically-diverse region in southern Kyrgyzstan – former parliament speaker Adakhan Madumarov and head of the Ata-Jurt opposition group Kamchybek Tashiyev – have alleged massive fraud and indicated they may challenge the result in court.
"Atambayev is the clear winner, there is no doubt about that," Asiya Sasykbayeva, deputy speaker of the Kyrgyz parliament, said by telephone from Bishkek Monday. "He was the most acceptable candidate. He's not a nationalist who will split the country between north and south, he's not a radical who will seek to upset our international relationships, and he already has plenty of experience in managing the state as prime minister. There may be protests from the losers, but his margin of victory was so overwhelming that it's not likely to make any difference."
---