US weighs faster Afghan handover. Are Afghan forces ready?
The reported shift would take large numbers of US and NATO forces out of combat missions. Some say that accelerating the handover of security to Afghan forces could further destabilize the country.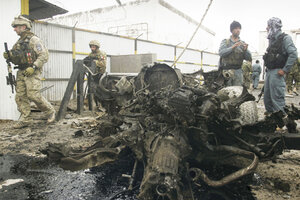 Hoshang Hashimi/AP
Senior White House officials have reportedly leaked that President Barack Obama is now considering shifting the US mission in Afghanistan to a primarily advisory role as early as next year. Such a shift would have broad implications for the war, most notably pushing the Afghan military and police onto center stage at a much faster pace.
The change would take large numbers of US and NATO forces out of combat missions well ahead of the current deadline at the end of 2014. And although the US and NATO have prioritized training for Afghan forces, minting more than 300,000 soldiers and police officers, Afghans and numerous international organizations have expressed continued concerns that the quality of these forces, especially the police, is dangerously low.
Amid growing concerns that the country could slide toward another civil war when foreign forces leave, many Afghans also worry that accelerating the transition of security to Afghan forces could make the situation even worse.
"The Afghan Army, police, and other security forces are not trained to work for the country's national interests. They are just looking to make money for bread and they'll take as much as they can get," says Suliman Khan, a resident of Kabul's restive Surobi district, the only part of Kabul Province that has yet to transition to Afghan forces. "If something happens like another civil war, these security forces will automatically switch sides and fight for their own regional or ethnic issue."
Army is doing better. But the police?
---