Khmer Rouge trial opens in Cambodia amid claims of interference (video)
Critics say political interference and judicial misconduct are tarnishing the UN-backed Khmer Rouge trial, seen as key to justice more than 30 years after the brutal regime was ousted.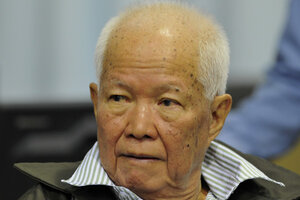 Mark Peters/Extraordinary Chambers in the Courts of Cambodia/AP
A UN-backed war-crimes tribunal in Cambodia today began historic proceedings in its second case against three surviving leaders of the Khmer Rouge accused of orchestrating Cambodia's killing fields in the late 1970s.
Hundreds of students, regime survivors, and saffron-robed monks packed a courtroom in the capital to hear prosecutors outline a litany of accusations against the elderly defendants, who face charges including war crimes, genocide, and crimes against humanity.
But more than 30 years after the brutal communist movement was ousted from power, the trial – once seen as a key step on the road to justice and reconciliation – threatens to be overshadowed by claims of political interference and judicial misconduct.
On trial are Nuon Chea, the regime's chief ideologue, former foreign minister Ieng Sary, and head of state Khieu Samphan, all octogenarians. Beginning with the forcible evacuation of Phnom Penh on April 17, 1975, the trio are accused of presiding over an agrarian revolution that turned Cambodia into an open air prison from 1975-79 and led to the death of an estimated 1.7 million Cambodians from execution, starvation, and overwork.
"These crimes, ordered and orchestrated by the accused, are among the worst horrors inflicted upon any nation in modern history," co-prosecutor Chea Leang told the court.
---