A US citizen stirs up Pakistani 'memo-gate'
Mansoor Ijaz, a 'citizen diplomat,' alleges Pakistani leaders knew of the Osama bin Laden raid ahead of time. The media frenzy in Pakistan over 'memo-gate' highlights the fragility of the government.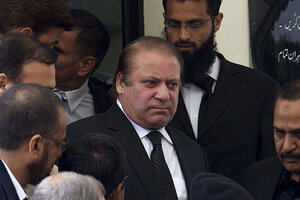 B.K.Bangash/AP
A private American citizen has accused Pakistan's President Asif Ali Zardari and a former top diplomat of being aware in advance of the US raid that killed Osama bin Laden in May.
The affair has injected fresh fuel to a scandal dubbed "memo-gate" by the Pakistani media, which has imperiled the US-backed civilian government and has been compared by the country's supreme court to the Watergate scandal.
The spectacular – and unproven – allegations come from Mansoor Ijaz, an American of Pakistani origin who calls himself a "citizen diplomat." The traction he has gotten in Pakistan's discourse highlights the fragility of the current government and the familiar possibility that elections could be short-circuited by backroom intrigues.
On Saturday, Mr. Ijaz wrote in Newsweek: "In my opinion … Zardari and [Husain] Haqqani [Pakistan's former ambassador to the US], both knew the US was going to launch a stealth mission to eliminate bin Laden that would violate Pakistan's sovereignty," adding that the civilian government planned to use the resulting outrage to force out the country's top general and spy chief.
---