Twin attacks in Afghanistan against Shiites not homegrown, say Afghans (video)
At least 58 people, many of them Shiite Muslims, died today in twin suicide attacks in Afghanistan on a Shiite holy day. But analysts say Afghanistan has no sectarian issues like Pakistan.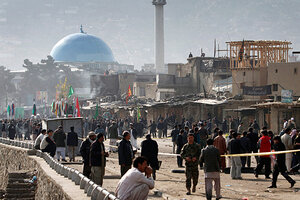 Musadeq Sadeq/AP
A Shiite mosque in Kabul was rocked by one of the deadliest suicide bombings Kabul has seen in recent months.
At the same time the Kabul bomb went off, another bomb rocked the city of Mazar-e-Sharif, north of Kabul, killing processions of Shiites as they celebrated the Islamic Ashura holiday. Some 54 people were killed and 160 wounded in the Kabul attack. And at least four people were killed in Mazar-e-Sharif. Around the same time as the Kabul and Mazar-e-Sharif attacks, another bomb detonated in the southern city of Kandahar but no one was killed.
Though it may seem on the surface to be a sectarian attack, the violence is most likely related to drawing attention from Monday's Bonn Conference on Afghanistan peace and security.
"There is no sign of tension between Sunnis and Shiites in Afghanistan," says Fakori Beheshti, a member of parliament from Bamiyan, a predominately Shiite province. "This was just an act of the enemies of Afghanistan. It came after the Bonn Conference about the peace and stability of Afghanistan and by carrying out these blasts not just in Kabul, but in Mazar-e Sharif and Kandahar it showed that they are against the achievements of Afghanistan and trying to get media attention."
Tuesday's string of bombings come the day after Afghan and world leaders gathered in Bonn, Germany to discuss the future of Afghanistan after foreign combat troops leave in 2014. Notably, the conference was boycotted by Pakistan after a NATO air strike killed at least 24 Pakistani soldiers in late November.
---