Why engage with Pakistan?
The US still needs Islamabad's help on Afghanistan. Pakistan needs US aid money and global connections to avert international isolation.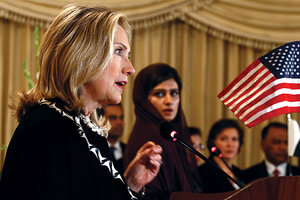 Kevin Lamarque/AP
Once again, anger is threatening the already volatile US-Pakistani relationship after the deadly cross-border attack – the worst friendly fire incident since the start of the 10-year war in Afghanistan – by NATO on Pakistani forces late last month.
"No more business as usual," said Pakistani Prime Minister Yousuf Raza Gilani. It was a deliberate act of aggression, a senior Pakistani Army official told reporters.
Adding bite to the rhetoric, Islam­abad boycotted the Bonn Con­ference in Germany, Dec. 5 on the future of Afghanistan, which is part of a US search for a graceful exit. Also this week Pakistan pulled some troops from posts along the border with Afghanistan.
Yet behind the headlines, the two have such strong mutual interests that a severance in US-Pakistani ties is unlikely. Pakistan relies heavily on the aid and connections it has won through its relationship with the US, which keep it from international isolation, and America still needs Pakistan, a nuclear power and the country with the second-largest Muslim population in the world, for strategic reasons long after troops draw down in Afghanistan.
To be sure, the deaths of 24 Pakistani soldiers have inflamed public opinion against the US, in a year when a CIA contractor killed two civilians on the streets of Lahore and America conducted a unilateral raid to kill Osama bin Laden on Pakistani soil. Polls put Pakistanis with a favorable opinion of the US at around 12 percent of the population, and there's little love lost on the other side.
---