Rumors of 'silent coup' as Pakistan President Zardari heads to hospital
Aides to President Zardari rubbish the rumors, which have quickly gained credibility among the Pakistani public because of the perception that this government is on its last legs.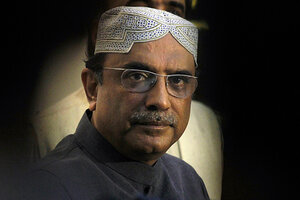 Anjum Naveed/AP/File
Pakistan's President Asif Ali Zardari has travelled to Dubai for medical treatment, according to top government officials who rubbished reports in the Pakistani media he is about to resign.
Spokesperson Farahnaz Ispahani, who travelled with the president by helicopter yesterday evening, told the Monitor that rumors of Mr. Zardari's impending resignation were "absolute nonsense," adding he had gone for a "routine procedure." Sherry Rehman, ambassador-designate to the United States, who saw the president off in Islamabad on Tuesday evening, says "he needs a check-up and some rest."
Still, Zardari's sudden departure has sparked frenzied speculation inside Pakistan about the possibility of a "silent coup." The theory holds that the unpopular president – who was due to address parliament about a controversial memo allegedly sent by one of his close aides that sought US help in reining in Pakistan's powerful Army – would step aside citing "ill health," paving the way for new leadership more acceptable to the military.
According to Badar Alam, editor of Pakistan's Herald magazine, the rumors have quickly gained credibility among the public because of the perception that this government is on its last legs.
"Look at what has happened in the last two months. The memo scandal, last month's NATO border attack, corruption cases against the government in the Supreme Court, the opposition rallies in the streets, and reports of pressure within the ruling party. All these create an atmosphere of uncertainty," he says.
"I don't know who is behind the rumors. But they definitely weaken the government further. It creates an image of instability in the country and gives the impression that anything can happen at any time," he adds.
---