Afghanistan: Kabul neighborhood struggles to regroup after bombing
In the corner of a Kabul neighborhood where almost every family lost someone in an early December bombing, the psychological and economic effects are far-reaching.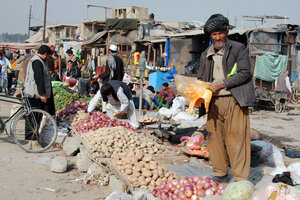 Tom A. Peter
Before a bomb blast killed his son and injured three of his daughters, hospitalizing two of them, life was anything but easy for Ahmad Shah. Like many in his poor Kabul neighborhood, he eked out enough to survive by pulling a rickshaw-like cart made of scrap wood. Merchants who either had a small load or couldn't afford a truck hired Mr. Shah to drag their goods across town on his cart.
Shah made enough to support his family's day-to-day needs, but had to take out loans from microfinance organizations for heating supplies and food during the winter. He had hoped to work off his debt before the spring, but his careful plans crumbled when a suicide bomber detonated himself at religious Ashura festival on Dec. 6, killing more than 80 people, injuring scores, and taking a catastrophic toll on his family.
"I lost my son and I need to take care of my injured daughters. Now I need to borrow money from friends and family to care for them. It will take a long time to pay my debts. It will make my life even more horrible," says Shah. "Why couldn't all of us die together so we could have peace and not have these things to make us worry?"
Although only two weeks have passed since the Ashura bombing, it has long faded from the headlines as Afghan news moves on to other macabre events and political developments. Still, the story of those affected by the bombing, one of the largest single-incident losses in recent Afghan history, provides a window into the challenges that face Afghan society as it works to rebuild amid deep-seeded psychological trauma and its far-reaching effects.
---