Pakistan's military dismisses talk of a coup as politics heat up
Supporters of Pakistan's powerful military are criticizing the government over its nuclear weapons policy.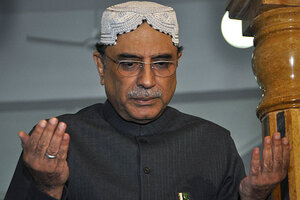 Nadeem Soomro/Reuters
A destabilizing confrontation between Pakistan's fledgling democratic government and its powerful military is evolving into a debate over the country's controversial nuclear weapons program.
Opposition politicians characterized Asif Zardari, the president, on Sunday as bowing to US policy to rollback Pakistan's nuclear weapons program. They dredged up his offer in November 2009 to abandon Pakistan's "first strike" nuclear weapons posture against India in return for a comprehensive peace agreement.
India and Pakistan have waged three wars against each other since gaining independence from British colonial rule in 1947. They conducted tit-for-tat nuclear weapons tests in May 1998.
"Our nuclear weapons are in safe hands, but they are under threat from the policymakers," Shah Qureshi, who until February was Pakistan's foreign minister, told an estimated 100,000 people at an opposition rally in Karachi.
President Zardari's offer to abandon the first-strike policy was rendered irrelevant within days by the November 2009 terrorist attacks on Mumbai, India's biggest city, carried out by the Pakistan-based terorrist group Lashkar-i-Taiba.
Considered India's 9/11, the attacks over three days claimed the lives of 164 people. Subsequent tensions with India prompted Pakistan to rescind the offer.
Pakistan adopted a "first-strike" posture in 2000, citing the overwhelming superiority of India's conventional forces.
The attack by Mr. Qureshi and another former minister, Asif Ahmad, on the president's national security credentials came amid public tensions last week between the government and the military, which sparked fears of a coup.
---