Pakistan high court to charge prime minister with contempt
Pakistan's highest court said on Feb. 2 it would charge Prime Minister Yousaf Raza Gilani with contempt of court for refusing to reopen a corruption case against President Asif Ali Zardari.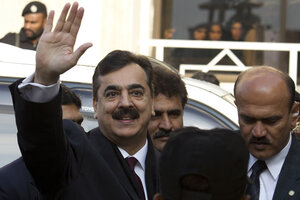 B.K.Bangash/AP
Pakistan's Supreme Court decided it will formally try Prime Minister Yousuf Raza Gilani on contempt charges following his refusal to implement Supreme Court orders to pursue criminal proceedings against the president.
Mr. Gilani has now been summoned to appear before the court on Feb. 13. The decision by the court reignites fears that the civilian government is under threat following a cooling of tensions between the government and the Army last week, and is seen as further evidence that the country's popular judiciary is overstepping its authority.
"The Supreme Court has the power to go forward with contempt of court charges," says political analyst Hasan Askari Rizwi, "but I think it is overstretching its domain, and this will cause greater uncertainty and confusion in our already troubled politics."
If convicted, the prime minister could face up to six months in jail and disqualification from public office.
In 2008, Pakistan's government, led by then military ruler Pervez Musharraf, dropped a $12 million money-laundering case in Switzerland against President Asif Ali Zardari that went back as far as 1997, following an amnesty deal that allowed exiled politicians to return to the country. The case in Switzerland collapsed because of lack of evidence.
But the Supreme Court ruled the political amnesty void in 2009, and ordered the government to send a letter to the Swiss government to restart proceedings.
---