Bin Laden hide-out: Leaks suggest Pakistani officers knew
Bin Laden hide-out: Material from WikiLeaks suggests mid-ranking Pakistani Army officials may have known about the Osama bin Laden hide-out in Pakistan, but official US statements do not back that up.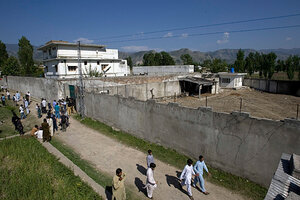 Anjum Naveed/AP/File
Leaked e-mails from the US intelligence firm Stratfor suggest Osama bin Laden may have been in regular contact with Pakistani military and intelligence agents prior to his death in May last year.
Whistleblowing organization WikiLeaks published 5 million internal e-mails of the Texas-based company Monday, though Stratfor has refused to comment on the contents of the leaks.
In one e-mail, a Stratfor employee is quoted as saying "Mid to senior level ISI and Pak Mil with one retired Pak Mil General that had knowledge of the OBL arrangements and safe house." Stratfor analyzes world events for corporations and government agencies.
The e-mail goes on to suggest that up to 12 agents may have been in the loop, but does not name them. The employee adds that the US could use the information as a bargaining chip after the raid, which took place in the garrison town of Abbottabad and created an uproar inside Pakistan as well as a great deal of embarrassment to Pakistani intelligence agencies.
Authorities began demolishing the compound last weekend, in what analysts called an effort to wash away a reminder of that embarrassment.
It's not clear how credible the information contained in the e-mails is, with some observers speculating that, because Stratfor itself did not publish the data, they may have not deemed the intelligence report authentic.
---