Bin Laden widows charged as new probe describes life with Osama bin Laden
Bin Laden's widows and children are being held at an undisclosed house in Islamabad. Pakistan's Interior minister said they would be placed under house arrest for illegally entering and living in the country.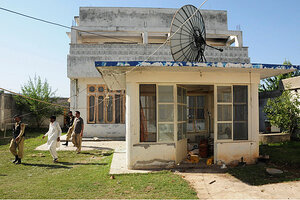 Shaukat Qadir/AP/File
Pakistani authorities said Thursday that they had filed charges against Osama bin Laden's three widows as an investigation revealed fresh details of the dead Al Qaeda leader's family life in Pakistan, including suspicions by two of the women that the oldest wife would betray him.
The three widows, who have been in Pakistani custody since US forces found and killed Mr. bin Laden last May in the northern town of Abbottabad, had been expected to be freed until Pakistan's interior minister said they would be charged with crimes related to entering the country illegally.
The charges came as Shaukat Qadir, a retired brigadier who maintains ties to top levels of the Pakistani Army, claims to have pieced together the most comprehensive account yet of bin Laden's life after he fled Afghanistan's Tora Bora mountains in late 2001.
Mr. Qadir believes that bin Laden likely had undergone a kidney transplant, was living in effective retirement in Abbottabad and may have gone senile. The tranquility of his large household was shattered when it was joined early last year by the oldest of his remaining three wives, Qadir said in an interview.
---