Taliban suspend talks with the US amid Afghan turmoil
Taliban leaders announced today they are halting negotiations with the US, dealing another setback to the US strategy in Afghanistan.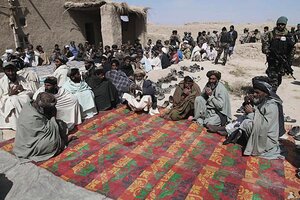 Allauddin Khan/AP
The Taliban has abruptly suspended plans to pursue negotiations with the American and Afghan governments, upending a key part of the US strategy in Afghanistan.
In an official statement on Thursday the group said it was putting on hold plans to open an office in Qatar to facilitate dialogue with the US.
The announcement comes as US and international officials work to mitigate fallout from an American soldier who allegedly murdered 16 Afghan civilians on Sunday and the burning of Qurans on a US military base last month that led to a week of violent protests. Both incidents have left many Afghans roiling, adding to frustration with America.
Amid this turmoil, President Hamid Karzai on Thursday also called for the removal of American bases in Afghan villages, a call unlikely to be heeded given the importance of the bases to US military strategy here.
Though the timing of the Taliban's announcement seems designed to capitalize on the recent US setbacks, a number of Afghan analysts say the Taliban's decision to freeze plans for an office is likely the result of long-term frustrations with the negotiation process.
---