First Taliban, now turncoats: Another Afghan soldier opens fire
The killing of two British soldiers at a NATO base in Helmand by an Afghan soldier comes just two weeks after US Staff Sgt. Robert Bales allegedly killed 16 Afghan civilians.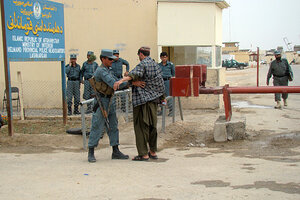 Abdul Khaleq/AP
Two British soldiers were gunned down by an Afghan soldier in southern Afghanistan today, in the latest incident involving NATO soldiers killed by their Afghan counterparts.
This most recent attack is one of many similar killings that have strained already tense relations between the international and Afghan forces here, ratcheting up concerns that such incidents may increase after Qurans were burned on a US base last month and an American soldier, Staff Sgt. Robert Bales, allegedly killed 16 Afghans.
Today's shooting brings the death toll of "green on blue" killings, incidents in which Afghan security forces kill coalition troops, up to 15 this year.
"The Afghans are becoming more ideologically opposed to the foreigners being here day-by-day," says Massoud Khan Nourzai, a member of parliament from Helmand, where today's shooting took place. "It doesn't affect the general security situation in Afghanistan, but it of course encourages more Afghans to take actions like the one today."
According to a local police official, an Afghan Army vehicle was stopped at the entrance to a NATO base in Lashkar Gah, the capital of Helmand province. The guards reportedly told the Afghan soldiers they were not allowed to enter. After waiting outside the base, one of the Afghan soldiers rushed into the base and opened fire, killing two British soldiers before he was shot dead.
---