Hundreds of Afghan women imprisoned for 'moral crimes,' says new report
But the response of local journalists at Human Rights Watch press conference shows how tough it may be to persuade Afghans to end criminalization of 'crimes' that include fleeing abuse.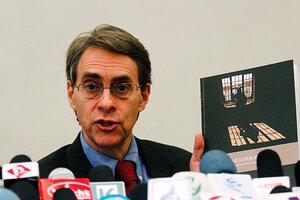 Mohammad Ismail/Reuters
Ten years into the NATO-led war in Afghanistan, those who seek to bring social reform to Afghanistan still face a major problem: selling it to large segments of the population who remain averse to change.

On Wednesday, Human Rights Watch issued one such call for change with a new report that highlighted the ongoing issue of women who are arrested and imprisoned for fleeing abusive family situations.
At a conference hall at the Serena, Kabul's 5-star hotel, packed with mostly local journalists but also with a smattering of foreign reporters, HRW representatives outlined the report, which describes the situations of about 400 women, half the female prison population, who are imprisoned for moral crimes such as having sex outside marriage or running away from home.
Among the personal stories in the report, the authors recounted tales of women who were given away as brides when they were as young as 12 years old to settle disputes, only to be abused by their new family. Others were married off to men who turned out to be abusive drug addicts. When these women fled, they were imprisoned for running away from home without permission.
The authors advocate that the Afghan government stop imprisoning women who run away from home to escape abusive situations. Putting woman in jail for this is not supported by the Afghan penal code or Islamic law, say HRW officials. The threat of imprisonment also discourages women from reporting abuse or trying to leave dangerous situations.
Challenging the status quo
But when the HRW representatives began taking questions from the press, they were immediately confronted with the challenge Westerners have faced for more than a decade as they try to change Afghanistan.
---