Assault on Kabul: Taliban claim attacks as show of strength
Teams of insurgents struck within Kabul and three other cities in coordinated attacks on Sunday. A Taliban spokesman called it the opening of their spring offensive.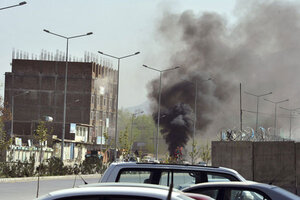 Pajhwok News Agency
Boston and Kabul, Afghanistan
Teams of insurgents struck within Kabul and three other cities in coordinated attacks on Sunday in what Taliban are calling the insurgency's opening salvos of the spring fighting season.
"Some days back the Secretary General of NATO [Anders Fogh Rasmussen] on his visit to Kabul said that the Taliban are not strong enough now," Zabihullah Mujahid, the Taliban's main spokesman, told the Monitor in a phone interview from an undisclosed location. "This was a clear message to him to show how strong we are, and they did not put serious attention to Afghanistan issue."
Fighters commandeered buildings near to the parliament and key foreign embassies, sending heavy gunfire and explosions into some of the most sensitive regions of the capital. Full casualty reports are still pending, but the Ministry of Interior says that five people have been wounded thus far in the Kabul attacks. The Afghan Ministry of Defense, meanwhile, says that its security forces have surrounded all the groups of Taliban fighters and brought the situation under control.
The value of the Sunday Taliban attacks is more symbolic than strategic. Afghan security forces appeared to contain the situation without calling in for assistance from the American-led International Security and Assistance Force (ISAF). But by deploying small numbers of fighters to a variety of locations in Kabul's diplomatic quarter, the Taliban has played to its own strength – of creating a sense of insecurity among the Afghan population, and generating headlines that will embarrass both the Afghan government and its Western backers.
The attacks come as the Afghan government and its Western backers signalled, again, their willingness to pursue negotiations with the Taliban. On Saturday, Salahuddin Rabbani was appointed to head Afghanistan's High Peace Council, a post left vacant by the assassination of his father. Spectacular attacks, including Burhanuddin Rabbani's assassination, have pushed talks to the breaking point several times before. It remains unclear if today's attacks were designed as another spoiler for negotiations.
"There is the possibility of fighting and considering talking at the same time, and I don't think that this attack is a rejection of talks," says Martine van Bijlert, co-director of the Afghanistan Analysts Network in Kabul. "It takes a long time to prepare an attack like this. I think the Taliban want to start the fighting season with a bang, and this is it."
"It's specifically designed for grabbing headlines, without actually carrying out a fullout attack on these high profile targets," says Ms. van Bijlert. "The key is for them to get into these abandoned buildings that are strategically placed, and start shooting, and create the impression that they are attacking."
There are reports that several more attackers were intercepted on the way to locations, she adds, but in the meantime, these attacks tend to "close down the city." For a group like the Taliban, which operates as a guerrilla group, with relatively light weaponry carried by individuals – rifles, rocket propelled grenade launchers, perhaps mortars – the Sunday afternoon attacks are perfectly suited for "giving the impression that Kabul is under attack," says van Bijlert. "With limited means, you can project something larger than you are actually capable of doing."
Fighting started near luxury hotel
In Kabul itself, Taliban teams started with a building near the new Kabul Star Hotel – a luxury hotel being built within the highly secure VIP area within central Kabul. Several embassies are within firing distance from the hotel, including those of Iran, India, Germany, Turkey, China, Japan, Britain, and France. Also within firing range are the US military's Camp Eggers and the ISAF headquarters.
---