Pakistan's top court convicts prime minister
Pakistani Prime Minister Yousuf Raza Gilani's conviction is triggering turmoil in a government already struggling with major economic and security challenges amid tense US relations.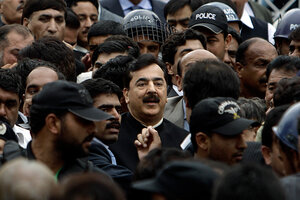 Muhammed Muheisen/AP
Pakistan's Supreme Court convicted Prime Minister Yousuf Raza Gilani of contempt today, but sentenced him to detention until the rise of the court, which took only a few moments.
The process of convicting the prime minister began in 2009 with a Supreme Court decision ordering the government to ask authorities in Switzerland to reopen a 1990s corruption probe against President Asif Ali Zardari. Mr. Gilani refused, citing presidential immunity, and in January the court ordered contempt proceedings against him. Both belong to the Pakistan People's Party (PPP), which has been the ruling party in Pakistan since 2008.
The conviction and sentence were largely symbolic. Though they were considered a compromise to leave the government in tact, they left the prime minister weakened and facing calls to step down amid his refusal. The trial highlighted political uncertainty and tension between the government and the judiciary branch that have all but crippled an administration struggling to tackle economic, energy, and security challenges.
---