Nepal's political process derailed, again
After years of delay, critics blame Nepal's dominant Maoist party for the impasse, in an attempt at ramming through a more radical constitution.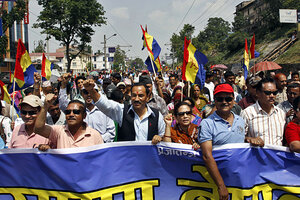 Binod Joshi/AP
Nepal's lawmakers failed to agree on a new constitution, reducing the government to caretaker status and with it the possibility of an end to a lengthy and tumultuous political transition this week.
The popularly elected constituent assembly was dissolved Sunday, after it failed to meet a deadline for passing the constitution. This was the latest of several extensions given to the assembly throughout the past four years, in an attempt to help rebuild the nation scarred by a decade-long Maoist insurgency that left more than 17,000 people dead.
Prime Minister Baburam Bhattarai called for fresh assembly elections Nov. 22 to complete the constitution and announced he would be head of an interim government until then. But critics question the legality of his announcement, the legitimacy of his government after Sunday, and the utility of electing another assembly that could possibly meet the same fate given a poor track record of Nepal's political forces.
Analysts say that Maoists have used the peace process as a path to capture state power after having failed to defeat the state army during the insurgency, but it is backfiring.
"The [new election] is clearly meant for state capture," says senior journalist Yubaraj Ghimire, who is a former editor-in-chief of The Kathmandu Post. "But the Maoists haven't taken into account the erosion of their credibility and loss of face in the past years. Contrary to being in an advantageous position, I think the Maoists are now isolated and cornered," says Mr. Ghimire.
---