UN sees significant drop in Afghan civilian casualties
Civilian casualties are down in Afghanistan, according to the UN. Analysts say this has to do with the a drop in insurgent attacks and may be a sign of better US-Afghan coordination.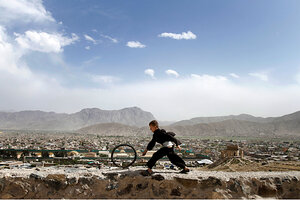 Ahmad Jamshid/AP
For the first time in five years, United Nations officials in Afghanistan have charted a decrease in civilian casualties signaling a rare bit of good news.
The first four months of this year civilian casualties dropped by 21 percent compared with the same period last year. UN officials caution that they are uncertain if the downward trend will continue through the rest of the year, however the report is consistent with others indicating an overall drop in violence throughout Afghanistan for the first part of this year.
With insurgents responsible for the vast majority of civilian causalities – 79 percent, according to the UN – this decrease in their activity has likely played a major role in reducing civilian deaths. Security officials say that insurgents now appear more focused on assassinations and high profile attacks, which has resulted in fewer incidents that place civilians at risk.
"The decrease in the civilian casualties is because of the decrease in violence. The enemy doesn't have the power to carry out continuous attacks. They are mostly depending on roadside bombs," says Abdul Rahman Sarjang, the police chief of Laghman Province.
Increased professionalism of Afghan security forces and efforts by international troops to reduce risk to civilians has also contributed to the drop, he adds.
The Afghanistan NGO Safety Office recorded a 43 percent decrease in insurgent attacks for first quarter of this year and the Afghan Ministry of Interior has also reported a drop in attacks.
---