Talks with Pakistan on NATO supply route stalled as US withdraws team
The US has pulled out of negotiations with Pakistan to reopen NATO supply lines. One of the sticking points was the conviction of the Pakistani doctor who helped the US track Osama bin Laden.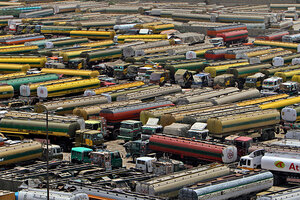 Fareed Khan/AP
US relations with Pakistan have reached a new low after Pentagon press secretary George Little announced Monday that the United States was withdrawing its team sent to negotiate the reopening of NATO supply routes. No date has been set for the team's return to Islamabad.
The announcement comes after a tumultuous week – and year – in US-Pakistan relations. Pakistan agreed, on principle, to reopen the supply routes in the runup to the mid-May NATO summit in Chicago. But negotiations between the two countries have been mired in demands from both sides, as well as controversial events and statements.
"The relationship is very bad. The two sides seem to be talking past each other. The US needs to understand that Pakistan is also accountable to its population [as elections approach], just like the White House is. And Pakistan needs to be doing more to address the militant issue," says Kamran Shafi, a security analyst.
The US and Pakistan have been trying to set up new terms to reopen NATO supply routes through Pakistan for several weeks. The routes were closed after a NATO raid on a check post near the Afghan border killed 26 Pakistani soldiers and injured an additional 13 on Nov. 26.
With the routes through Pakistan closed, US forces now have to use much longer and far more costly routes via Central Asia to supply troops in Afghanistan. According to some experts, that may also translate to delays in the 2013 pullout, when NATO troops plan to exit Afghanistan.
Rocky negotiations
---