Pakistan bombing hints at free rein for radicals in Quetta
A bus bombing in Quetta is the latest attack on Shiite Hazaras. The lack of arrests have prompted the Hazaras to suspect the state is complicit.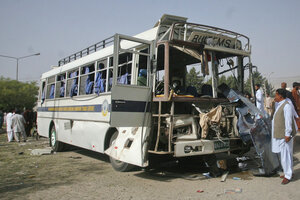 Naseer Ahmed/REUTERS
The bombing of a university bus mostly filled with Shiite Hazaras killed at least four students in Pakistan's Balochistan Province on Monday.
Balochistan borders Afghanistan and is widely seen as the base for the Afghan Taliban leadership. Yesterday's attacks were carried out by another set of jihadis in the region, a reminder that the large Pakistani security presence here has focused more on pinning down an ethnic uprising than cleaning up Islamic militancy.
More than 130 ethnic Hazaras have been killed in some 30 separate attacks since May 2011, bringing the death toll above 700 in the past 10 years, according to the Hazara Democratic Party (HDP).
The banned militant outfit Lashkar-e-Jhangvi has taken responsibility for Monday's bombing. The Sunni extremist group has openly declared that the community is "worthy of killing" because of its Shiite beliefs.
Considering Pakistan's strong security presence in Quetta, Hazara leaders say their group should have better protection. Some leaders further allege that the government turns a blind eye to Sunni militants in the hopes of distracting ethnic Baloch from their long-simmering, secular nationalist fight.
Pakistan's security establishment has traditionally viewed ethnic nationalism as a more present danger to the state than Islamic militants, which it has used as tools of foreign policy across the border in Afghanistan.
---