Another $16 billion in aid, but Afghan businessmen say help us
World leaders in Tokyo pledge more aid to Afghanistan. But Afghan businessmen worry that the country is too aid dependent and want help with the private sector.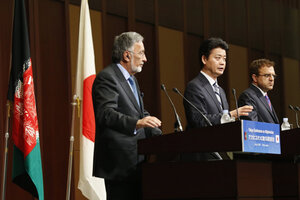 Kim Kyung-Hoon/REUTERS
International donors representing about 70 countries and organizations met in Tokyo on Sunday to pledge $16 billion to Afghanistan's reconstruction over the next four years.
The announcement was welcome news for many in Afghanistan, but nearly 11 years into the US-led war many Afghans and international officials have expressed considerable disappointment with an aid effort that they say has fallen short thus far. With these new pledges in place, there is hope that lessons learned will be applied to improve aid spending in the coming years.
Among complaints of fraud, mismanagement, waste, and missed opportunities that Afghans want addressed, many say they would like to see foreign assistance work harder to adequately develop Afghanistan's private sector so it can begin to create jobs and a sustainable economy.
"The government does not have the capacity to create more jobs. The only way to create more employment opportunities is to support the private sector," says Mohammad Rahim Rahimi, director of the Ministry of Economics in Kandahar. "We are still asking the international community for support, but if they had spent development money appropriately I'm sure we would be self-sufficient and we would be able to support our economy."
Despite the improvements foreign aid has brought to Afghanistan, it's also managed to place the economy in a perilous position where it is dependent on aid for its existence. Presently 90 percent of the Afghan government's budget depends on foreign aid and money from the international donor community and military spending makes up about 97 percent of the country's GDP.
---