Once the conflict's center, Kandahar City calms
The province has seen a 75 percent drop in insurgent attacks and activity compared with the same time last year, according to the Kandahar governor's office in Afghanistan.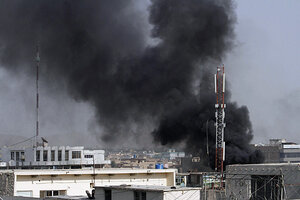 Ahmad Nadeem/Reuters
Taliban insurgents attacked the police headquarters and several parts of Kandahar City on Monday afternoon in the sort of attack that's grown less frequent in this once turbulent southern city.
Police managed to kill all 14 suicide bombers involved in the attack, but the fighting left three policemen dead and 18 injured. Six civilians were also injured.
The Taliban claimed responsibility for the attack, which was part of the group's regular warm weather offensive, said Qari Yousef Ahmadi, a spokesman for the Taliban. He added that the date of this attack was also meant to come near the one year anniversary of the assassination of President Hamid Karzai's half-brother, Ahmad Wali, formerly one of the most prominent figures in southern Afghanistan. Ahmad Wali was killed by someone from his inner circle on July 12 of last year.
In the wake of Ahmad Wali's death, many Kandaharis were concerned his absence would create a power vacuum that would increase violence here. So far, however, the security apparatus, namely the new police chief, Abdul Raziq, has stepped in to fill the void. While a controversial figure, many locals have attributed Mr. Raziq's aggressive approach with bringing a measure of calm to Kandahar.
During the past several months, though security incidents remain a part of regular life for residents, most say they have seen a marked improvement in security and now enjoy much greater freedom of movement. Still, residents say that it remains unclear if the security gains will endure beyond the end of the US and NATO combat mission in 2014.
---