How to toss an anklebone and shoot an arrow like a Mongolian
Anklebone tossing and archery are two of the ancient steppe sports showcased this week in Mongolia's capital at a centuries-old celebration of Genghis Khan's empire.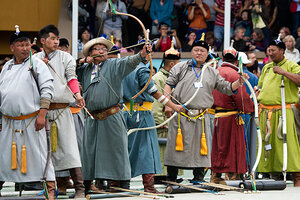 Andy Wong/AP
The London Olympics are all very well, but frankly, what is a sporting extravaganza really worth if it doesn't include anklebone tossing?
In Mongolia, anklebone tossing (more on this later) is one of the steppe sports that nomads here have practiced since time immemorial; this week, in an annual three-day pageant of almost impossibly picturesque tradition, Mongolians are celebrating their unique culture.
Ponies have thundered across the rolling grasslands in races lasting nearly an hour; archers dressed in flowing robes held by bright silken sashes have aimed their arrows at absurdly small targets from 80 paces, and hit them; hulking wrestlers have grappled with each other, locked in combat like bison, before thousands of spectators in the national stadium; and, of course, anklebone tossers have tossed anklebones.
Naadam, which means "the games," is a festival that dates back to 1206, the year when Ghengis Khan founded and named his empire, and took his own noble name for the first time, according to Jack Weatherford, a historian of Mongolia's imperial past.
The earliest known inscription in the Mongolian language commemorates the exploit of an archer at the games held in 1224 or 1225 to celebrate the success of Genghis Khan's campaign in Central Asia. The bowman shot an arrow more than 350 yards, the stone recounts, setting a record that has not been beaten for 788 years.
A century later, Kublai Khan presided over Naadams from his stately pleasure domes in what is now northern China. "These games have gone on forever," says Professor Weatherford. "When Mongolians hold a celebration, this is what they do."
---