How the NATO supply route closure hit Afghan truck drivers
Truckers in Kandahar lost the biggest part of their business when Pakistan closed off NATO supply routes to Afghanistan.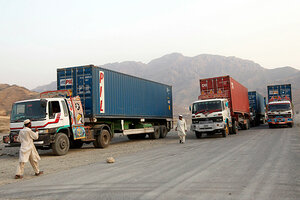 Parwiz/Reuters
For the first time in months, Afghan trucking company owner Ratmatullah says that he's hopeful about the future.
About seven months ago he and many other truckers here in Kandahar lost the majority of their business when Pakistan closed off NATO supply routes to Afghanistan and international forces began relying more heavily on northern routes.
Local truckers say that the change shifted business to trucking and logistics companies in the north, leaving many in Kandahar jobless. Mr. Ratmatullah, who like many Afghans uses only one name, says his small company used to employ about 100 trucks weekly. After the border closed that number dropped to just 10. Within his company that cost about about 270 people their jobs, says Ratmatullah.
With the route only recently reopened, business has yet to return, but Ratmatullah says, "We're very optimistic about the future because we will have work when it starts again."
Still, the loss of business has given him cause to worry, he says, about its long-term future. "When the foreigners leave in 2014, I'm sure we'll lose thousands of jobs. When there are no bases who will we supply? There will be no need for us."
The experience of truckers in Kandahar serves as a preview of the economic ripple effect likely to spread as the US drawdown eliminates a number of Afghan jobs that have sprouted up to support the international presence here. Many worry that while the Afghan government has focused on security, it has no plan to deal with the economy.
---