India's big power blackout: Why coal hasn't been a savior
Some 600 million people lost electricity across India this week. The country relies on coal, which is neither helpful with peak power shortages, nor is regulated enough.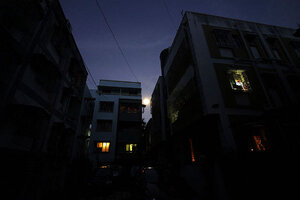 AP Photo/Bikas Das
Gulam's youthful brown eyes gaze at the coal mines just a few yards from the tiny thatched hut she shares with her family.
The scene before her, in the Jaintia Hills of northeast India, looks like something out of an apocalyptic movie: mountains of tar-black coal, polluted orange rivers, and seemingly bottomless holes plunge more than a 100 feet beneath the earth's surface.
Gulam's father was killed in a mining accident. Her husband and adolescent brothers take grave risks in the mines: They duct-tape flashlights to their heads and climb hundreds of feet down rickety ladders, wearing flip-flops, and use rudimentary tools to extract coal from the mine's narrow tunnels.
Workers like Gulam carry tons of coal out of the mines here each day to meet the growing energy needs of India's 1.2 billion people. Roughly 70 percent of India's electricity comes from coal power and because of India's large coal reserves that number is set to rise.
But reliance on coal has blackened lives and landscapes, and it hasn't always kept the lights on.
This week, some 600 million people were plunged into darkness across India in what is reportedly the world's largest power collapse. Coal experts like Justin Guay say it exposes the failure of a coal-fired grid to address the real problem: peak power shortages.
"Coal operates at a steady output 24 hours a day - it's baseload," says Mr. Guay, the Washington Representative of the Sierra Club International Climate Program. "But coal can't be ramped up quickly to accommodate quick peak surges in demand."
He says solar energy, improved efficiency, and natural gas are much more plausible solutions for delivering energy when India needs it - at peak times, such as when millions flip on their air conditioners.
---