Is the Taliban wearing out its welcome in Afghanistan?
Tuesday marked the most violent day in Afghanistan this year, while Afghans are starting to show that they're tired of violence and fed up with the Taliban.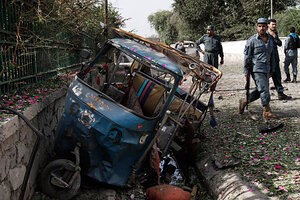 Rahmat Gul/AP
Kandahar and Ghazni, Afghanistan
After US Army Staff Sgt. Robert Bales allegedly walked off a US base in Kandahar last March and went house to house, killing a total of 17 Afghan civilians, many worried that the Taliban would capitalize on the incident and the long restive province would revert to violence.
Yet more than five months later, violence in Kandahar remains at record lows. Compared with the same time last year, the Kandahar governor's office reports that insurgent attacks and activity are down 75 percent.
Marking a new development, not only did the Taliban fail to use the shooting spree as a propaganda tool to renew their momentum, but a growing number of residents say they've grown frustrated with the group and increasingly intolerant of its activities.
"The bad behavior of the Taliban with the local people – when they use their fields, houses, mosques, and streets as their battlefield, when they put landmines in roads and in their fields – has shifted the sympathy of the people toward the government. People are very unhappy with the Taliban about these issues," says Haji Fazel Mohammad, the district governor of Panjwayi, where the Bales incident occurred.
Throughout Afghanistan, many locals are losing whatever sympathy they may have once had for the Taliban. In Ghazni Province in eastern Afghanistan, a group of locals in Andar district rose up against the extremist group after it shut down a majority of schools in the area.
---