Pakistani president wades into 'Down's Syndrome' blasphemy case
President Zardari's intervention may signal that moderate coalition parties in the government will take up the issue of reforming the blasphemy law again.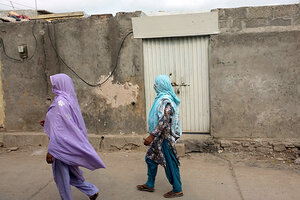 B.K. Bangash/AP
The fate of an 11-year-old Christian girl in Pakistan who was jailed last week after being accused of burning religious texts hangs on a pending medical report from authorities confirming that she is mentally disabled.
Under Pakistan's controversial blasphemy law, the desecration of Islamic scriptures is punishable by death. Local media have reported the girl has Down's Syndrome, which could give authorities a means of exonerating her.
Pakistan has struggled to handle blasphemy cases in recent years. With the country in the global spotlight, such cases bring strong condemnations not just from elites and minorities here but from an international community worried about Pakistan's heated religious climate. Pakistani leaders also face pressure from local communities prepared to violently punish any accused blasphemers.
In this case, Pakistan's President Asif Ali Zardari has stepped in early, saying he is taking "notice" of the issue and directed officials to investigate. Some analysts here see that as a silver lining in the case.
"The case … demonstrates the growing bigotry in the society where people cannot even spare a mentally challenged child," says Raza Rumi, a noted columnist, adding that efforts to even conduct a debate on the colonial-era blasphemy law have resulted in murders and threats to progressive Pakistani Muslims. "However the intervention by the president is a healthy sign indicating that the moderate coalition parties in the government may take up the issue of reforming the blasphemy law again," he adds.
Locals from the slum outside Islamabad where the girl lived say the case has sparked tensions between Christians and Muslims, forcing the Christian minority to flee.
"We are living with our relatives in Rawalpindi till the situation calms down in our area," says Shabnam, who works as a maid for wealthy families in Islamabad, the capital city of Pakistan. "Our landlord, who is a Muslim, told us to leave the house and go away for some days because he says it is dangerous for us to stay there after the arrest of the girl accused for blasphemy."
---