India and Pakistan sign landmark visa deal
For the first time ever, the two nuclear rivals have introduced tourist visas, sparking excited Facebook posts from Pakistanis eyeing a trip to the Taj Mahal and Indians looking to visit Harappa.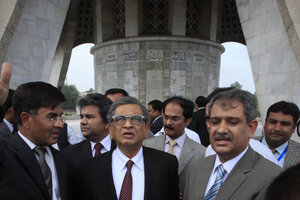 Mohsin Raza/Reuters
Pakistan and India signed a landmark new visa pact Saturday making it easier for their citizens to visit each other and sending a signal of warming relations between the nuclear-armed rivals.
India and Pakistan have fought four wars since their independence from Britain in 1947. The last visa pact, signed in 1974 in the aftermath of a war in 1971, had made it extremely difficult to cross the border. Pakistan was carved out of India in 1947 and the migration of 10 million citizens – Muslims from India to Pakistan, Hindus and Sikhs from Pakistan to India – was accompanied by bloody riots that left an estimated million dead.
For the first time ever, the two countries have introduced tourist visas, but with the restriction that these will have to be groups of 10 to 50 people traveling through a registered tourist agency. Pakistanis and Indians were seen welcoming this on Facebook, making plans to visiting the Taj Mahal in India or the ancient sites of the Harappa civilization in Pakistan.
The new visa pact will especially be of relief to families – mostly Muslim – who are divided between the two countries. The validity of such visas has been increased from 30 days to six months and from three to five cities. The two countries grant city-specific visas. In the earlier visa regime, people had to apply for a visa months in advance. The new rules stipulate a fixed period of 45 days.
---