Indian artist jailed for anticorruption cartoons
Aseem Trivedi was arrested on charges of sedition and insulting national honor, raising concerns in India that the government is increasingly intolerant of dissent.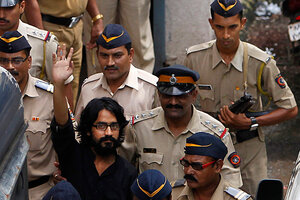 Rafiq Maqbool/AP
A political cartoonist in India has been arrested on charges of sedition, violating an online content law, and insulting national honor for a series of cartoons sharply critical of corruption in the government.
Aseem Trivedi's arrest Saturday took place nine months after he displayed the cartoons at a demonstration in Mumbai calling for the creation of an anticorruption ombudsman in the Indian government to punish officials for graft.
Outrage over Mr. Trivedi's arrest spread across social media and dominated headlines here over the weekend. Trivedi was quickly offered bail, but the cartoonist has decided to keep the spotlight on the government's actions by refusing bail and staying behind bars. Trivedi is arguing that the onus is on the government to drop the case. The three charges, if actually prosecuted, would carry up to three years in jail.
The arrest of a cartoonist on such serious charges unnerves some observers who argue the embattled elected government is increasingly harassing its opponents.
"The police is obliged to study the law before acting on a complaint. The sedition law clearly states it applies only when there is violence or threat of violence," said Sukumar Muralidharan, South Asia program coordinator with the International Federation of Journalists. "The misuse of the law suggests there may be a deeper political purpose to the arrest. There has been increasing intolerance toward dissent by the ruling government in India and this may be seen as part of that," he said.
---