India launches 101st space mission, and looks to Mars
The mission will be carried out without international help, highlighting the growth and ambition of India's home-grown space program, which plans to launch a mission to Mars.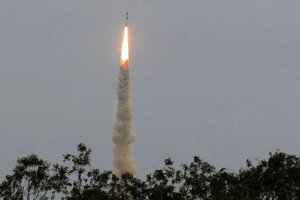 Arun Sankar K/AP/File
India marked its 101st space mission today with the launch of its heaviest communications satellite, GSAT-10, from French Guyana.
The satellite, carrying 30 communication transponders and a navigation payload, is the first of 10 missions slated for the coming year, a hectic schedule that the Indian Space Research Organization (ISRO) hopes will have glorious finale in November 2013 with the launch of an orbiter to Mars.
India's Red Planet mission is to be carried out without international help, highlighting the growth of the agency.
"At the moment, we plan to do it on our own," said ISRO chief K Radhakrishnan at the agency's headquarters here last week.
After 50 years and 100 missions, the Indian space program is growing faster than ever. India's scientists, some NASA-trained, assembled the country's first rocket in a village church in the 1960s. Today, India's home-grown space program is considered one of the top six in the world.
In recent years, the mission has expanded its original development agenda to embrace more commercial and exploratory interests – though to what extent remains to be seen.
Budget parallels India's economic growth
The government has increased budgets, accelerating the pace of missions and moving toward more prestigious – and sometimes controversial – projects throughout the past decade.
"The first 50 missions took 27 years, the next 50 took place in the last 10 years and the next 58 missions will happen in the next five years," said Mr. Radhakrishnan, whle emphasizing the agency's "success on a shoestring" story.
---