Afghanistan war claims 2,000th US soldier, but pace slowing
The 2,000th US soldier to die may have been the victim of another insider attack. Overall, the conflict has grown less deadly for US troops since 2010.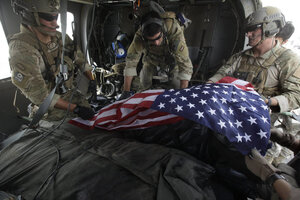 Brennan Linsley/AP/File
A possible insider attack has claimed the life of America's 2,000th soldier to die in Afghanistan. The shooting reportedly took place Saturday evening in Afghanistan's volatile Wardak Province at a checkpoint run by the Afghan Army.
While initial reports indicated that the incident was likely an insider attack, international military officials now say insurgent fire may have been involved. The incident left one NATO soldier presumed to be American dead, along with a civilian contractor, and three Afghan soldiers. Afghan and international military authorities are now investigating the incident.
If confirmed as an insider attack, the incident is likely to carry particular significance beyond being the 2,000th American soldier killed in the nearly 11-year conflict. Though violence has fallen here with US troops seeing consistent drops in fatalities starting last year, the war continues to claim lives and this latest spate of insider killings presents a challenge that has so far eluded US and NATO efforts to solve the problem.
"It gets at the very core of trust between coalition forces and the Afghans, and it's very difficult to counter," says David Barno, a senior fellow at the Center for a New American Security who commanded US and international forces in Afghanistan from 2003 to 2005.
---