Bangladesh worries plot to blow up the Federal Reserve will hurt moderate image
The latest high-profile terrorist suspect in the US hails from Bangladesh, a country that has actually shown a remarkable ability to tamp down Islamic militancy.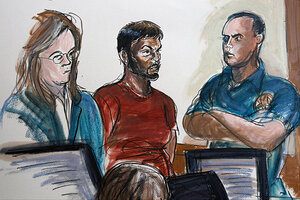 Elizabeth Williams/AP
The case of the 21-year-old Bangladeshi man charged with plotting to blow up the Federal Reserve Bank in New York has raised concern among Bangladeshis that this will hurt their country's image as a moderate Muslim nation.
The FBI arrested Quazi Mohammad Rezwanul Ahsan Nafis on Oct. 17 in a sting after he allegedly parked a van filled with what he believed to be 1,000 pounds of explosives outside the building in Lower Manhattan near the New York Stock Exchange and tried to detonate the "bomb" with a cellphone.
The arrest came as quite a surprise to many in Bangladesh – one of the world's largest Muslim countries, with a population of 160 million – which has shown significant success at cracking down on militant activities since the militant outfit Jamaat-ul-Mujahideen Bangladesh (JMB) detonated some 500 bombs throughout the country in 2005.
Although the Muslim majority nation has witnessed a rising trend of sectarian violence against Buddhist and Hindu minorities in the past year, leading to destruction of several Buddhist and Hindu temples in the southeastern and the southwestern parts of the country, most don't see a major militancy threat.
---