Will Pakistan release its Osama bin Laden Abbottabad report?
More than a year after Pakistan said it would find out who was responsible for failing to catch Osama bin Laden on its own soil, a formal investigation has only produced rumors.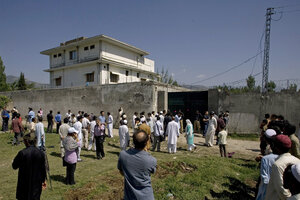 Anjum Naveed/AP/File
A year and a half after the Pakistani government said it would find out exactly what happened and who was responsible for failing to catch the most wanted man in the world – Osama bin Laden – hiding in plain sight in Pakistan, the only thing that has come from a formal investigation are rumors.
It generally takes Pakistan years to release findings from special commissions. At the most, reports may get leaked to the press, but that also often takes months. Though many were hoping the report results would bring to task the powerful military establishment often accused by the West of supporting extremists and their affiliates, in light of reported leaks that the commission will exonerate Pakistani authorities, analysts believe that the whole exercise may have been futile.
"In Pakistan, whenever the authorities want to hide something under the carpet and hoodwink the public, the government forms a commission. That is been the historic practice," says Zaman Khan, spokesperson of Human Rights Commission of Pakistan.
Mr. bin Laden had been living in the garrison neighborhood of Abbottabad, a city about 40 miles from the capital of Pakistan, for five years before he was killed in a raid by the US Navy SEALs in May 2011, prompting an investigation by the Pakistani government to ascertain facts regarding his presence there.
A formal commission was set up, and a report was slated to come out with the findings by the end of last year. However, it faced a 10-month delay because of lack of consensus among commission members, according to an official who worked on the report and asked to remain anonymous because he is not authorized to speak to the media.
The commission was initially a contentious issue between the government and the opposition, but later there was agreement in the Pakistani parliament to go ahead with investigations.
---