Will Obama's reelection change the US-Pakistan relationship?
Some Pakistani officials are quietly hoping Obama's reelection will help relations between the two countries, particularly if Sen. John Kerry replaces Hillary Clinton as Secretary of State.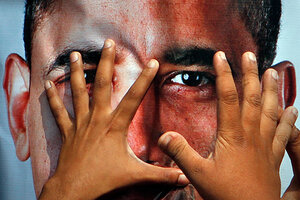 Akram Shahid/Reuters
As news of President Obama's victory reaches Pakistan, many say they do not expect any substantial change in US foreign policy toward the country.
But some Pakistani officials and politicians are quietly hoping that perhaps a cabinet reshuffle and a strengthened mandate, now that reelection pressures are eased, could soften an otherwise tense relationship between the two countries.
And rumors that Sen. John Kerry (D) from Massachusetts could replace Secretary of State Hillary Rodham Clinton has some officials hoping that the former's many-year relationship with Pakistan could pave the way for an even smoother cooperation.
"It is of course up to the US president to appoint the Secretary of State. However, if speculations about Kerry become true, then that would be a positive development – and a lot easier. Kerry has many friends in Pakistan. He obviously knows the region, and the ins and outs of our relationship," says Fawad Chaudhury, a special assistant to Pakistan's prime minister.
Kerry was one of the US senators who sponsored the $1.5 billion annual Kerry-Lugar-Berman aid package to Pakistan, and is known for his relationship with the country. He paid visits to Afghanistan and Pakistan following the Navy Seal raid that killed Osama bin Laden, in an effort to save the rocky partnership.
---